We compare the best pro printers on the market
You might recall the days of printers gone by, perforated pages and mono coloured ink that seemed to last all of one document before it needed changing.
Of course, fast forward to today and you'll find a plethora of incredible pro printers on the market offering precision temperature sensitivity for ink management, along with ink distribution with such nuance that it requires a microscope to see the difference.
When you are looking to buy a professional printer, you might have narrowed it down to Epson vs Canon pro printers. After all, these are two of the biggest names on the market and it makes sense to compare these giants if you're a discerning buyer looking for quality.
But much like a high performance vehicle, you really need to "get under the hood" to see where the differences in the best pro printers lies. While a printer might look amazing, you also need something that is consistent, something that can print day after day, and be cost-effective for the studio photographer.
Not much to ask, right?
At Total Image we are proud to be an authorised reseller and partner of both Epson and Canon. With that in mind, we have decided to compare the Canon ImagePROGRAF range and the Epson SureColor range so that you can understand the pros and cons of each when looking to buy.
| | Canon ImagePROGRAF | Epson SureColour Range |
| --- | --- | --- |
| Physical Design | Wireless printing, LCD Screens, modest design | Wireless printing, LCD Screens, modest design |
| Technical Specs | Maximum resolution of 2400x1200 dpi; borderless up to 44" wide | Maximum resolution of 5760x1440 dpi; borderless up to 13x19" |
| Image Quality | Very high image quality across blue and green tones, close portraits and dark images with a great deal of detail | Very high image quality across blue and green tones, close portraits and dark images with a great deal of detail |
| Black and White | Incredible monochrome and greyscale – slightly deeper black | Incredible monochrome and greyscale – could be tweaked to match Canon |
| Usability | Wireless printing is a joy – but the printer is not without its peccadilloes | Can lose connection and require some fiddling to get back online |
It's hard to choose a winner between these printers; both printers produce absolutely stunning images. We'll look into each of these factors in a little more detail now just for a better comparison.
Physical design
When it comes to both printers, you'll find that each has a range of convenient features and settings including LCD screens and fairly modest design. With that in mind though, when you are printing something, these printers cannot help but to look slightly awkward, with paper sticking out and expanded paper trays.
But then, you're more interested in the end result, rather than what the printer looks like in action.
Both printers have WiFi which means no more cables snaking around the office or studio
You can expect black cases and fairly unassuming lines, so that no matter your office decor your pro printer will blend in
Also, it's good to note that the Canon's print head isn't installed into the printer which means one more step for you. But then, this also means that you can replace the print head if it gets clogged beyond repair.
Technical specifications
Connecting these printers is simple, and you are spoiled for choice with your options. Want to use Apple AirPrint? No problem. Google Cloud Print? Yes, no problem there either. These printers are both constructed with the end user in mind, and boast a multitude of connection options, including traditional USB 2.0 and Ethernet.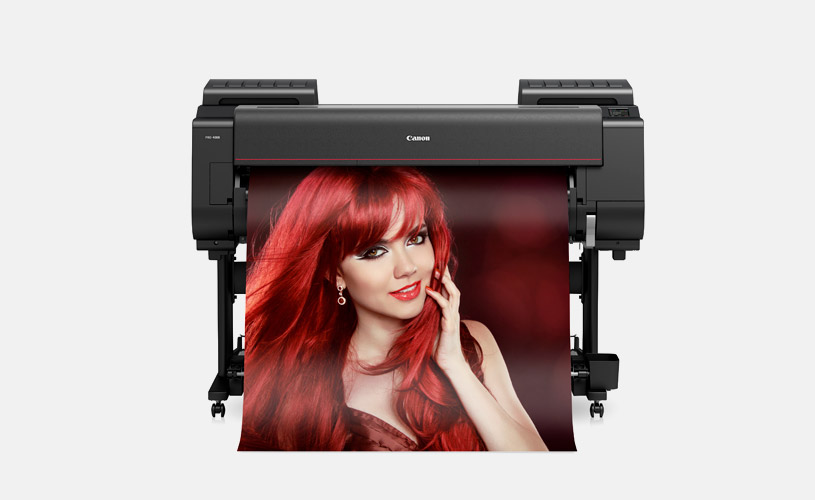 Maximum resolution - 2400x1200 dpi with L-COA Image Processing
Ink output - 12-ink pigment ink system. Images are printed with matte black, photo black, magenta, cyan, yellow, photo cyan, photo magenta, gray, red, blue and photo gray. Each ink comes with its own tank so the printer doesn't need to purge ink in between matte and photo paper printing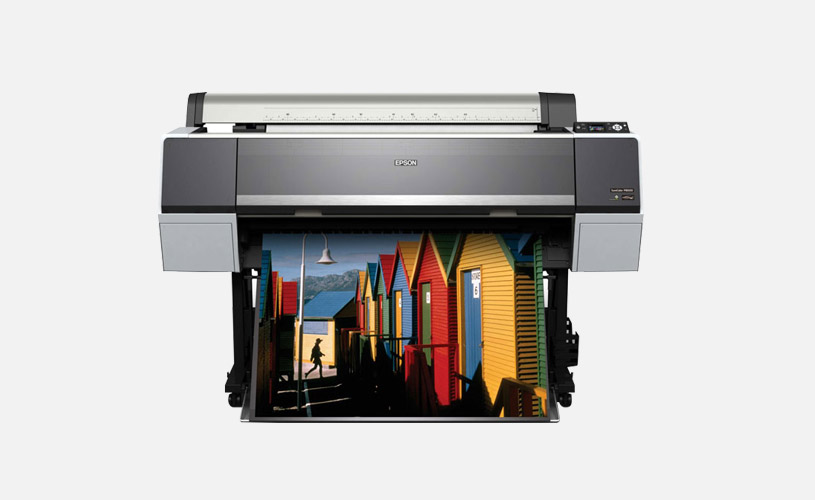 Maximum resolution - 5760x1440 dpi with roll paper adaptor for high volume portraits
Ink output - 9-ink configuration using photo black, matte black, vivid light magenta, light black, light light black cyan, vivid magenta, yellow and light cyan. This printer can automatically switch between photo and matte black, but due to a shared channel there is some cleaning required between matte and gloss.
Image quality
Both printers perform equally well with regards to colour rendition and the overall tonality of prints generated at their highest resolutions and with all high-speed settings disabled. When printing at the highest resolution, the Canon printer will take a slight win over the Epson printer, but the difference is incredibly marginal.
Black and White/Monochrome printing
Let it be said that each printer performs magnificently at a grayscale or black and white printing level. Each printer has the capacity to generate stunning grayscale and black and white atonal images. Users have the option to adjust the Epson output in Photoshop and it will easily stand up to the Canon's natural deeper black ink.
Usability
When it comes to the usability of any tech product, there seems to be a certain point at which technology can only go so far. While each printer is effortless to use and can hardly be faulted for performance, there are a couple of bugbears for connectivity.
From time to time, each printer might "drop out" from connection and then cause problems when trying to print. Wireless printing from almost any device does ease the headache caused by this, as does the relatively quiet printing from each.
Overall ratings
No matter which printer you opt for, know that you are making a fine choice as far as the best pro printers are concerned. Canon is a firm favourite for many studio photographers, while the Epson printers continue to perform year after year.
We rated each brand nine out of ten because we believe that each is a superior product at the top of its class. Our only small grumble was with the connectivity, but again this was only intermittent and could easily be rectified.
If you would like to find out more about any of our stunning printers or other printing equipment, call us on 1300 057 078. We are based in Melbourne and are only too happy to offer advice and guidance on making the right choice when it comes to purchasing Epson and Canon pro printers.