Expand your horizons with a wide format printer to suit your style of photography
Are you a professional photographer who's passionate about the way your images are printed? What are you looking for in a printer? Do you want to reproduce sharp images with exquisite tonal variations? Do you need precise control over speed and colour range?
We offer a premium range of wide format printers, photographic paper, and software to suit your personal or business needs, and take the quality of your work to the next level.
What should I consider before buying a wide format printer?
If you're considering buying a wide format printer, you might be overwhelmed by the features and specifications you need to consider. The more customisable a model is, the more opportunities you have to replicate an image exactly the way you want.
Consider what settings you can change and how easy it is to do so. If you're trying to replicate the same results from another printer, you need comprehensive options for calibrating – so there's consistency in the way you print your images.
We have several models designed for replicating imagery at different page sizes and speeds. It's useful to ask yourself some of these questions when you're considering the best wide format printer for you:
What are the needs of your business and your clients?
What are the pain points?
Do you need to operate your printer via RIPs (Raster Image Processor) and colour management programs?
The best brands and ranges for photographers
At Total Image Supplies, we have an extensive range of options available for wide format printers. Each model has its own unique set of features and benefits, and it's simply a matter of finding what's right for you and your business's needs. Check out our full range of wide format printers to find a solution for your business.
Canon imagePROGRAF PRO-Series Printers
PRO-1000 12 Colour A2 Desktop Professional Printer
This relatively compact design fits on your desktop and is suitable for photographers/small businesses with minimal studio/office space available. It's capable of producing stunning A2 prints in just six and a half minutes.
Best for offices with limited space
Borderless printing up to A2 size
Stunning 12 colour printing with Chroma Optimiser
Smart detection and correction of non-firing nozzles for a flawless print every time
Find out more about the PRO-1000 here.
PRO-2000 24" 12 Colour Graphic Arts Printer with HDD
The PRO-2000 is the perfect large format printer for smaller businesses or those just entering the printing industry for the first time. With a fast print turnaround time and reduced ink consumption, this model provides an efficient and economic solution to photographic printing.
Best for those entering the wide format printing market
192MB hard drive
Printer stand included
Multifunctional roll unit
Find out more about the PRO-2000 here.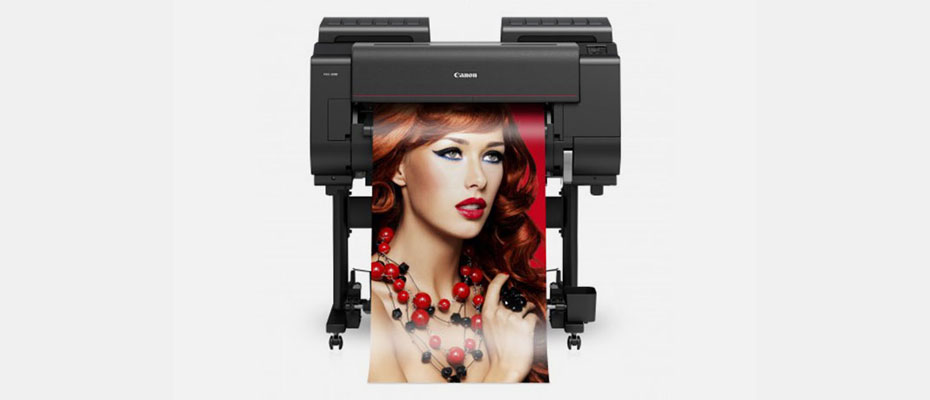 PRO-4000 44" 12 Colour Photographic Printer with HDD
The PRO-4000 is designed for reproducing large format photographs, fine art prints, banners, and so much more. With reduced ink consumption and fast printing speeds, this economical design can save you time and money on producing large format prints.
Best for the environmentally conscious printer
Reduced ink consumption
Full colour touchscreen
Wifi connectivity
Find out more about the PRO-4000 here.
Must-have accessories for wide format printers
A new printing solution for your business isn't just solved with a printer. Check out our extensive range of software and supplies to elevate your photography to the highest standard.
1. ILFORD Galerie Photographic & Fine Art Papers
Bring your prints to life with Ilford Photo Paper. Its chemical-coated resin delivers a smooth, glossy finish with vibrant colours and deep blacks. It's the perfect choice for achieving the heavyweight look and feel of a traditional photograph.
Ilford fine art paper is perfect for large format prints and achieving that gallery prestige finish. With a non-resin, smooth cotton construction, it delivers a more texturised look and feel, which is ideal for reprinting artworks such as watercolour paintings.
Find out more about ILFORD Galerie Photographic + Fine Art Papers.
2. PhotoTex – Wallpaper Print Media
The self-adhesive fabric of PhotoTex Wallpaper ensures easy application and vivid, sharp print results with bold colours. Its self-adhesive fabric will stick to virtually any surface, except non-painted brick, and it can easily be removed with little remaining residue.
PhotoTex wallpaper can also be used both indoors and outdoors, in any weather conditions. It can even be illuminated with backlighting and wrapped around walls, corners, poles, and ceilings. For easy customisation, the adhesive is removable and reusable.
Find out more about PhotoTex Wallpaper Print Media.
3. X-Rite Colour Management
Imagine you're part of a photography studio that's spent the last few days shooting a collection of products at several locations with different equipment and photographers each time. Utilising a Colorchecker will enable you to match colour response under different lighting conditions and with different camera models.
With a Colorchecker, you can achieve consistency with the colours of your images. A great result if you're producing a series of images that will be displayed together such as product photos for an ecommerce store.
Check out our full range of X-Rite colour management tools to find one that suits you.
4. MegaRip Software
MegaRip is a high-speed raster image processor (RIP) designed for the digital photographic, exhibition, photo canvas, outdoor display and screen print industries.
MegaRip is loaded with features and applications created for photographers, graphic designers, and anyone who requires consistent, high-quality prints from desktop through to wide format printers. It's a total solution for turning files into prints, made to seamlessly fit into your workflow and fulfil all your output needs.
There's a MegaRip edition suited to any photographic, design or production environment, each capable of accepting select files in the following formats:
TIFFJPEGPSDPNGScitex CTSerendipity Blackmagic Image plus composite Postscript (Level 3) - PSEPSPDF
Check out our range of MegaRip software editions to find one that suits your needs.
Which printer is right for you?
At Total Image Supplies, we are experts in the wide format printing industry. Contact us, and we can recommend the best printer for you based on the needs of your business and what needs to be achieved. We have a long history and open communication with Canon and other brands, and we can help you make the best decision for your business.
For more friendly advice on choosing the best wide format printer, contact us.