To bring your architectural visions to life, you'll need the right tools and resources. You need quality images printed on a large scale and the ability to scan in diagrams that you've worked on for days.
Wide format printers are perfect for reproducing images such as drafts, architectural drawings, blueprints, floor plans, and so much more. Because bigger dreams need bigger pictures.
What to consider when looking for a wide format printer
There are many benefits from having access to your own wide format printer. But before you choose the right model, there are few things to consider. The ability to scan and print large diagrams from in-house plan prints to CAD drawings is essential.
When you're choosing your wide format printer, ask yourself:
What speed does your work need to be scanned, printed and reproduced?
Do you need to make last-minute changes to your work before client meetings and presentations?
What about the cost per print?
Can the model produce prints at a fraction of the cost it would be at a printing service?
Having access to your own wide format printer allows more flexibility regarding what you can print and when. There's no need to rely on a printing service.
Canon Multi-Function ImagePROGRAF Series
This range from Canon empowers architects with the tools they need to illustrate and print their visions. Every blueprint you design requires great depth in detail and unbelievable clarity.
In 21 seconds, these models can print plain paper sheets with accurate registration. When you need an in-house solution to scanning and printing, the imagePROGRAF Multi-function printer delivers with a large format scanner and a large touch-screen monitor.
Recent innovations with this series include the ability to connect wirelessly and print your work. This means that you can print your work from anywhere in the office without the technical setup.
ImagePROGRAF iPF785MFP 36'' 5 Colour Multi-Function Large Format Printer
The iPF785MFP is designed to meet the speed and precision requirements of AEC, CAD, MCAD, and ECAD applications. Save valuable time for your business by printing A1 sheets in under 30 seconds. You can also enjoy the convenience of non-stop printing—even while refreshing the ink with its large and economic 300ml tanks.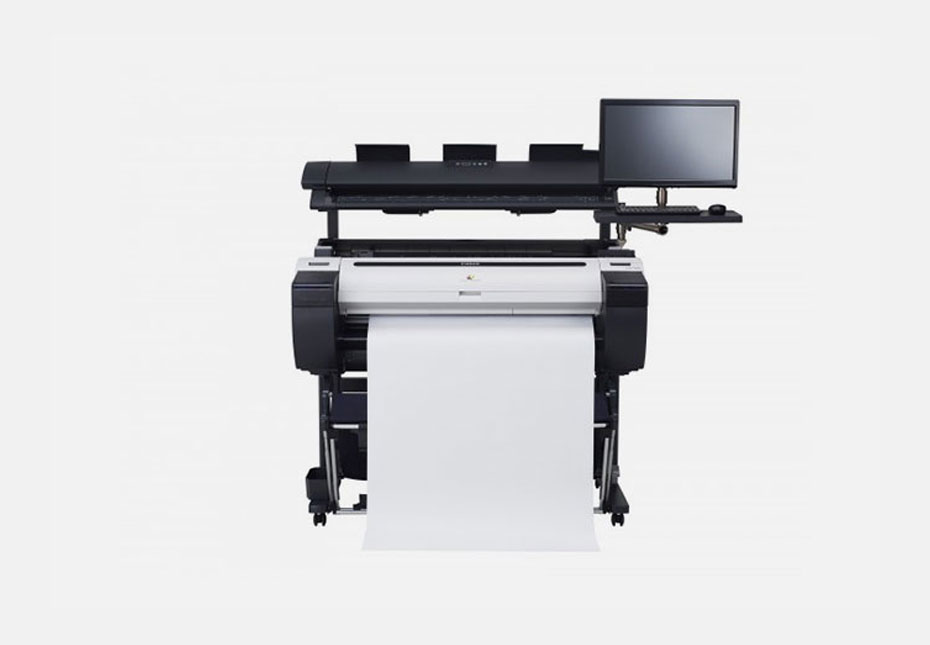 Complete Scan-to- Print / File / Share Solution
Includes M40 Scanner, Printer, SmartWorks MFP Stand
320GB HDD for optimised job queue file processing
Keyboard and mouse stand included
Find out more about the iPF785MFP.
ImagePROGRAF iPF840MFP 44'' 5 Colour Multi-function Large Format Printer
The iPF840MFP comes with an integrated 320GB hard-drive, PC and touchscreen. With the ability to scan sheets at a rate of 33cm per second, this model will save you valuable time in the office.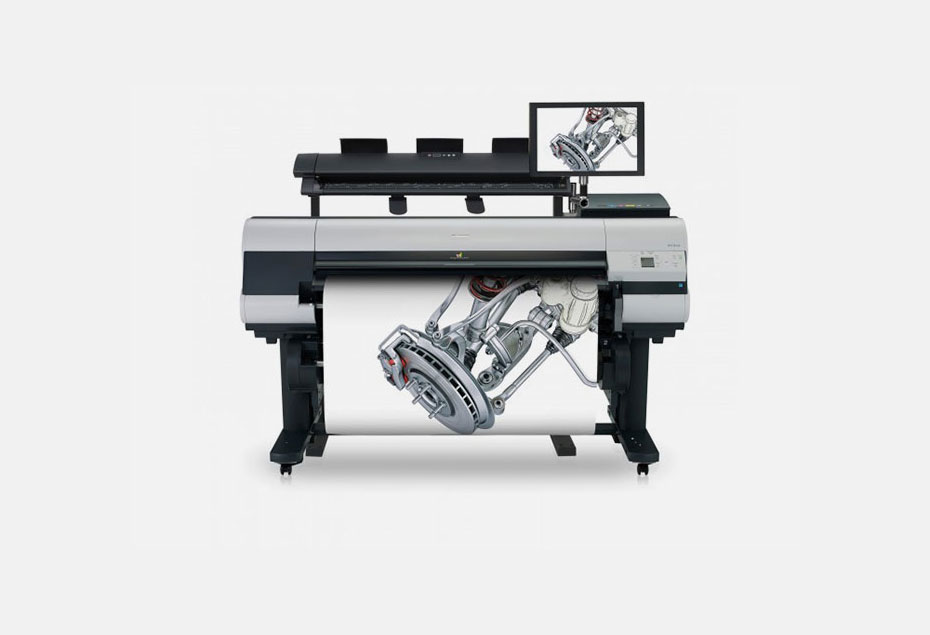 2400 x 1200 dpi
100 to 1200 dpi scanning
High capacity ink tanks at 700ml
Keyboard and mouse shelf included
Find out more about the iPF840MFP.
ImagePROGRAF iPF850 44'' (B0) 5 Colour Technical Large Format Printer
Reproduce clear quality CAD drawings with precise detail thanks to the iPF850. With a dual roll holder and high capacity sheet stacker, this model enables the production of high volume sets of up to 100 sheets in order.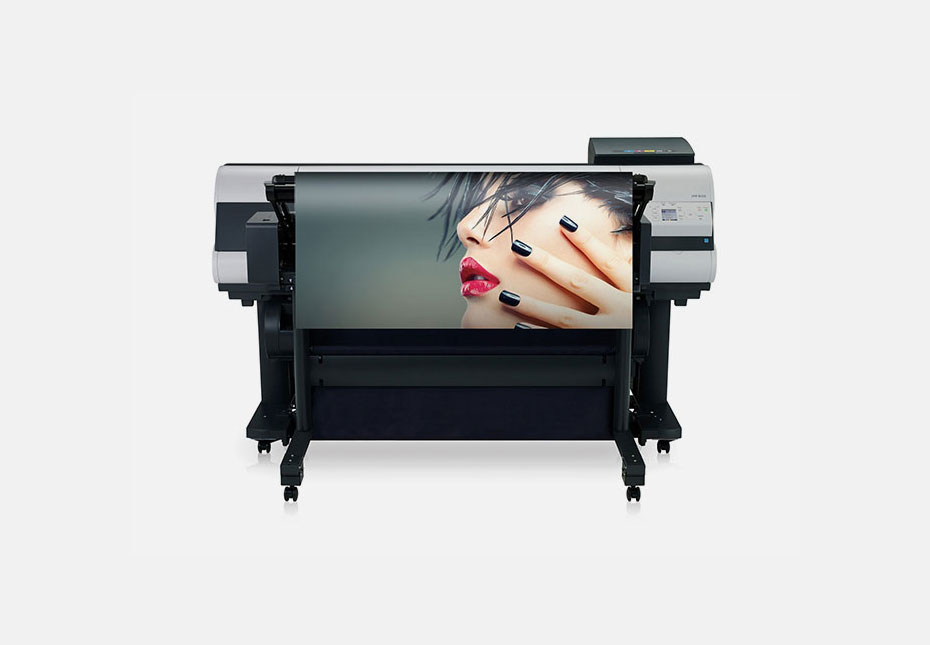 44" Dual Roll Holder
Direct Print & Share software and cloud ready
Manage costs and track ROI with accounting software
High capacity 330ml/700ml hot-swap ink tanks that you can change while printing
Find out more about the iPF850.
Must-have accessories for wide format printers
With a new printing solution comes the accessories and supplies you need to produce consistent and professional results time and time again. Check out our extensive range of bond/coated paper and inks to help elevate the quality of your drawings and schematics to the highest standard.
1. Canon wide format inks
Canon wide format inks are specifically designed to get the best print results out of your Canon wide format printer. Capture a broad and deep range of colours with every print. Produce vivid imagery and crisp details for blueprints without any distracting smudges. The combination of Canon inks and print heads will deliver you outstanding picture quality every time.
2. Bond and coated paper
We offer several grades of bond and coated paper to suit your needs.
Bond paper is perfect for the production of blueprints and sketches thanks to its slightly rough surface. With its stable design and resistance to moisture, this durable paper can withstand manual handling on a construction site.
Coated paper has a smooth surface coating and is perfect for displaying vivid full-colour prints. Are you looking to print a final draft or a detailed colour reproduction? The glossy finish of coated paper will make your colours pop and help work stand out for a presentation.
Which printer is right for you?
When it comes to wide format printers, we are the experts, and we're always willing to answer any questions you may have no matter how technical or specific it may be. Contact us, and we can recommend the best printer for you based on the needs of your business and what needs to be achieved. We have a long history and open communication with Canon and other brands, and we can help you make the best decision for your business.
For more friendly advice on choosing the best wide format printer, contact us today.