Bring your stunning visuals to life with a wide format printer
For a seamless transition from screen to paper, wide format printers are the answer. Finding the right model can strike the perfect balance between speed, reliability, and consistency.
When there's a wide format printer in your office, you're the one in control. You'll get more input into user settings to produce colourful visuals exactly the way you envisioned them to be. There will be no nasty surprises when your work comes back from a printer days after sending it.
What to consider when buying a wide format printer
Before you start looking for a wide format printer, it's best to weigh up the advantages of having one in your workplace. Ask yourself the following:
Do you currently utilise multiple devices for producing large format prints and graphics?
Wide format printers can eliminate the need for multiple devices for printing and alleviate some of the clutter from everyday workflow.
Do you have particular preferences and specifications when it comes to the size of the prints you're producing?
At Total Image Supplies, we sell a range of models that can print graphics ranging from 24''- 60'' wide with no borders.
Do you currently rely on a third party to complete some of these tasks?
Handling all of your large format printing in house can drastically reduce the cost of producing large-scale prints and graphics. There's no need to spend exorbitant amounts of money on a third-party print supplier.
Turnaround time for printing can also be drastically reduced with the addition of a wide format printer. Don't wait days for flyers and posters to get delivered to your office.
Canon Multi-Function ImagePROGRAF Series Printers
The ImagePROGRAF series of printers from Canon puts the control in your hands. Models like the iPF8400SE are designed specifically for users who want to produce vivid and eye-catching posters, banners, and signage for displays at a low cost.
The PRO-4000S and PRO-6000S come with wifi connectivity so you can print wirelessly from your own desk. With Canon's Direct Print and Share software, users can upload documents from almost anywhere. Set up hot folders on your desktop, then drag and drop in the files you wish to print, and all your PDFs, JPEGs, and TIFFS will automatically start printing.
Canon's PosterArtist poster creation software enables users to create large format prints that can be used for office presentations, trade shows, retail signage and so much more. This software features Auto Design, Variable Data, and in-application image editing.
ImagePROGRAF iPF8400SE 44" 6 Colour Graphic Arts Large Format Printer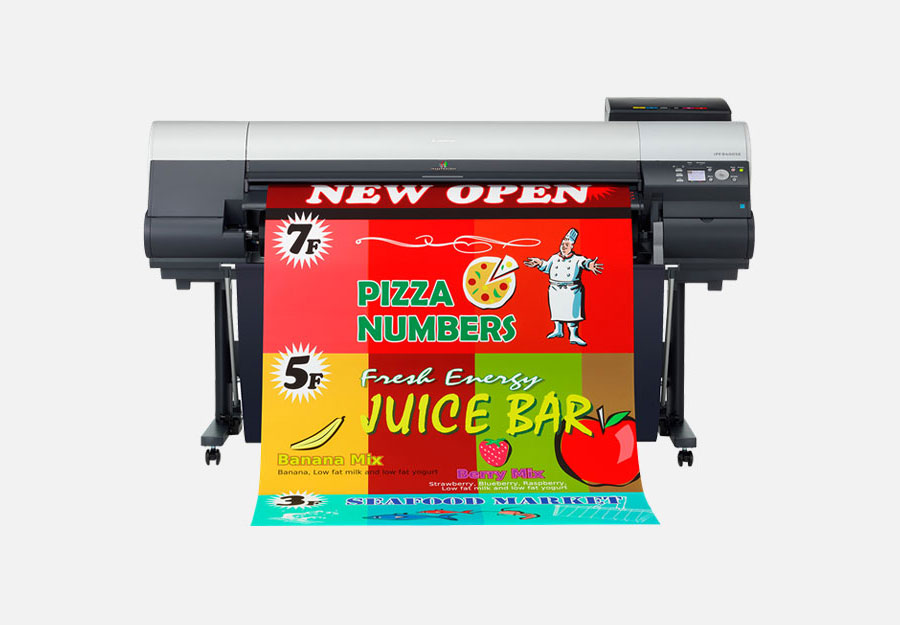 The Canon imagePROGRAF iPF8400SE 44" Large Format Printer is designed for vibrant poster creation. Suited for applications in the POS, Display Graphics and retail markets, this model will instantly maximise productivity in your office. The iPF8400SE utilises a 6-Color LUCIA EX pigment ink set which allows for incredibly vibrant and eye-catching prints to be produced time and time again.
6-Color LUCIA EX Ink Set
Borderless Printing
A0 Plain Paper in 56 seconds
Optimized Poster Printing Mode
Find out more about the iPF8400SE.
ImagePROGRAF PRO-4000S 44" 8 Colour Graphic Arts Large Format Printer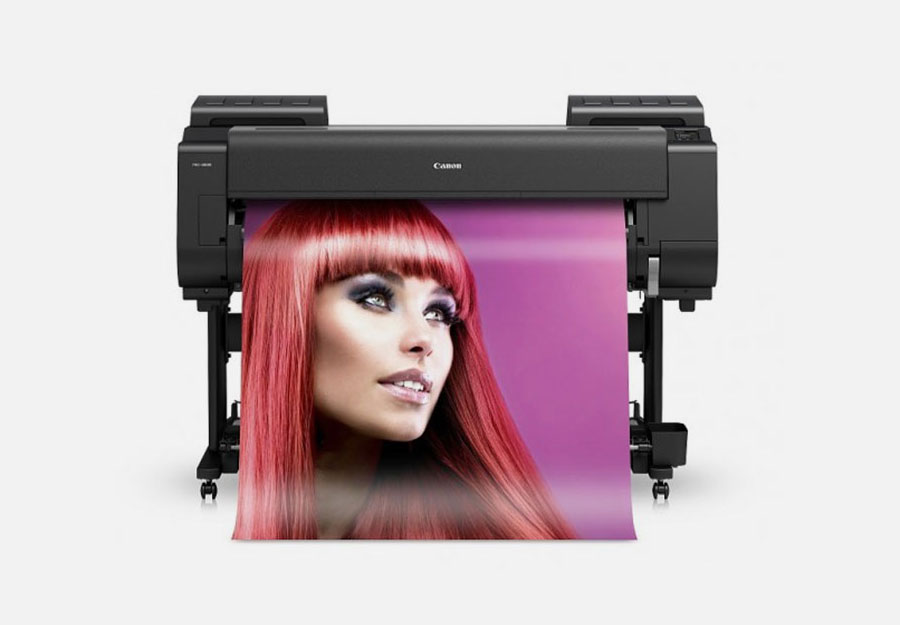 The PRO-4000S large format printer is an incredibly versatile machine that replaces the widely popular iPF8400S. Targeted towards the graphics, copy stores and event printing markets, this new machine is designed to improve speed and efficiency regardless of the application.
2400 x 1200 dpi
High capacity 700ml Ink Tanks
192MB Hard Drive
Includes Printer Stand
Find out more about the Pro-4000S.
ImagePROGRAF PRO-6000S 60" 8 Colour Graphic Arts Large Format Printer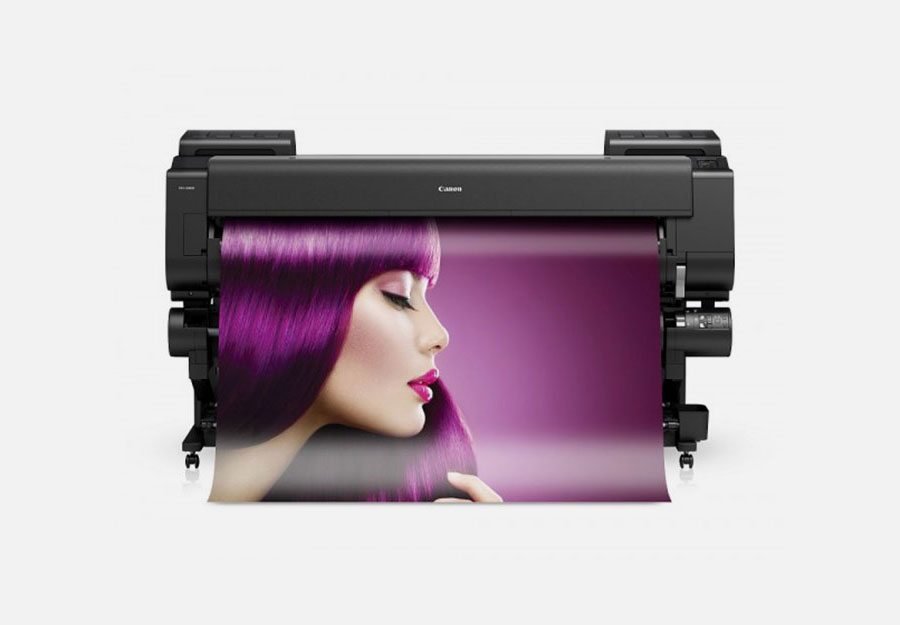 With the PRO-6000S, bigger really is better. Produce large format prints with a whopping 60" borderless printing capacity. This model is designed for high volume printing without compromising on quality. Ideal for graphic designers, exhibition and event printing, internal print rooms, and copy stores. The PRO-6000S is a versatile model for offices and businesses with limitless expectations.
No-touch media handling
Wifi connectivity
Sub tank ink system
Includes printer stand
Find out more about the Pro-6000S.
Accessories for wide format printers
With a new printing solution comes new accessories and supplies to use in conjunction with your printer. Check out our extensive range of supporting products to elevate the quality of your graphic prints to the highest standard.
Canon wide format inks
Canon wide format inks are specifically designed to get the best print results out of your Canon wide format printer. Capture a broad range of colours with every print. Produce vivid imagery on large posters and ads without any distracting smudges. The combination of Canon inks and print heads will deliver you outstanding picture quality every time.
Wide format laminators
Protect your large format prints from damage with a wide format laminator. Applying a thin film to your signs, banners, and posters will protect them from everyday wear like dust and dirt. Lamination can also protect your prints for postage and long-term displays. Here at Total Image Supplies, we sell a wide range of models to suit the needs of businesses both big and small.
Which printer is right for you?
We are experts in the wide format printing industry. Contact us, and we can recommend the best printer for you based on the needs of your business and what needs to be achieved. We have a long history and open communication with Canon and other brands, and we can help you make the best decision for your business.
For more friendly advice on choosing the best wide format printer, contact us today.