What are large format printers in 2017?
Today, large format printers, also known as wide format printers, are an essential part of a range of Australian businesses and industries.
They are computer-controlled printing machines which support a large format print roll of between 18 and 100 inches (24 - 254cm). Using inkjet technology they are able to print large images and displays accurately and more economically than alternative printing methods such as screen printing.
In Australia right now, large format printers and wide format printers are used to create a wide range of materials. Including:
Posters, banners and graphics
Wallpapers, backlit films and murals
Schematics, drawings and plans
Vehicle wraps, signage and large artwork
If you've ever been to a trade show, walked past a large advertisement, or seen a large print recreation of an artwork, chances are you've seen the work of a large format printer. It's everywhere!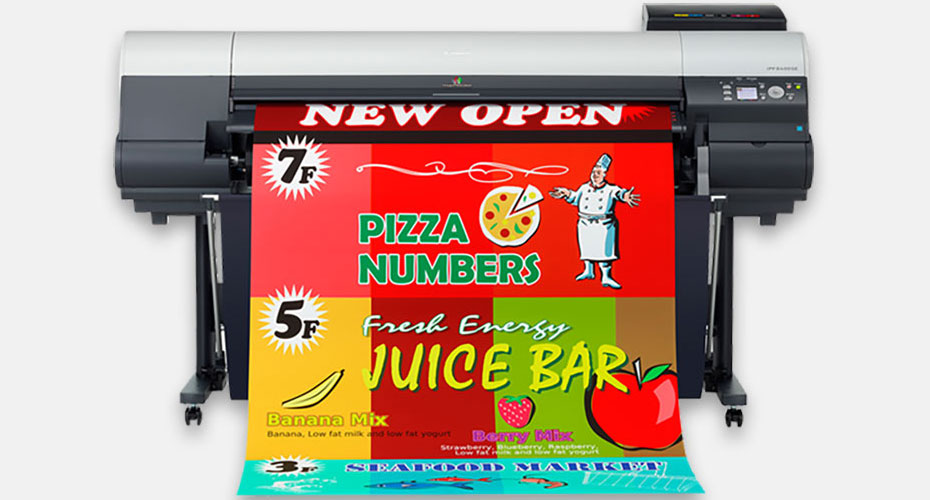 Origins of large format printers in the 1980s
For most of the 20th century, large format sign creation remained unchanged.
Signage was largely crafted by hand by experienced sign-writing professionals. Despite a few innovations, such as the Gerber Scientific Inc Signwriter III (1982) a computer which cut graphics out of adhesive-backed vinyl, sign-writing stayed a specialised profession, which could only be completed by a select few.
This all changed, however, with the launch of the first full-colour, large-format digital printer; the Encad NovaJet I. Launched in 1991, this innovation would change the world of printing, forever.
The Encad NovaJet I may seem rudimentary by today's standards. For example, it only printed on paper in simple inks which were known to fade all too rapidly. But, at the time, it was a revolution.
For the first time, organisations and businesses could print large format signs and displays without the need for expensive, time-consuming and old-fashioned sign writing techniques. It took Australia by storm and quickly became the standard for making large banners and displays.
Improvements and innovations in the 1990s and 2000s
After the initial launch in 1991, large format digital printers quickly improved and developed to meet the needs of Australian professionals.
A significant development was the introduction of pigmented inks in 1996. Whereas early dye-based inks were known to deteriorate quickly, these new pigmented inks were water and fade resistant. This made displays much more durable and allowed them to be used in a range of new conditions.
Also introduced in the 90s, new substrates like adhesive backed vinyl, canvas and film allowed prints to become more vibrant and dependable.
Follow-ups to the NovaJet I, like the NovaJet 750 improved the resolution, speed and colour of wide format printers. In 1999 wide format printers were capable of printing 30 to 90 square foot an hour, today though, modern printers can produce high quality prints at over 2,000 square feet an hour.
Similarly, throughout the 2000s and beyond, average resolutions rose from as little as 100 dpi to now more than 2,800 dpi. Issues such as head clogging, banding and dropouts which plagued early machines have now been solved.
While improvements have often been incremental, today's wide format printers are leaps and bounds ahead of their original units.
Browse our range of printers
At Total Image Supplies, we stock a wide range of wide format printers and large format printers, including systems from top brands like HP and Canon. Whatever your printing needs, we've got a system to suit.
See our wide format printers online or contact us for enquiries.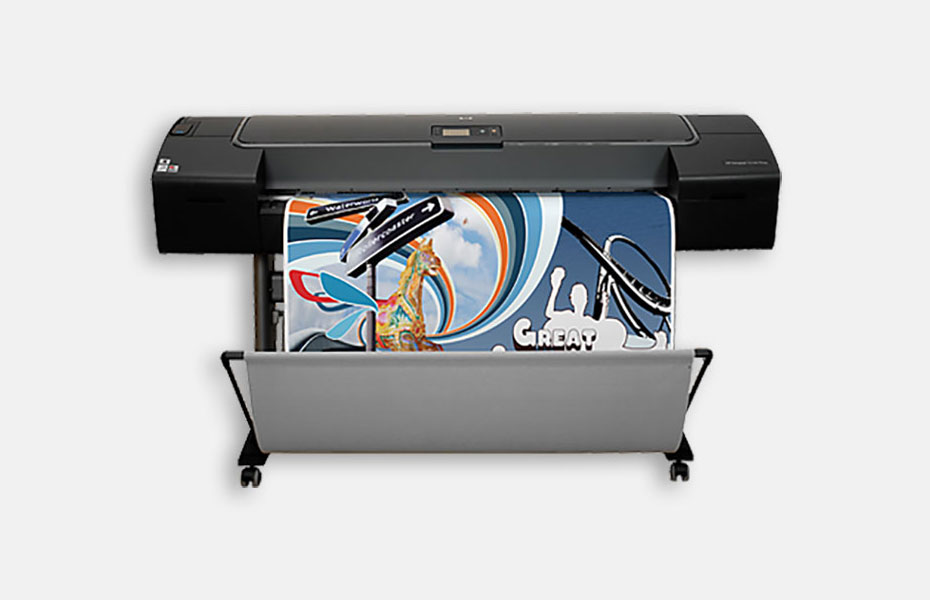 Latest innovations 2010 - present
In recent years, large format printers have become much more affordable. Like many computers, what was originally the tool of large industries is now within the reach of small and medium businesses.
This has resulted in large format printing being used in a variety of new and innovative ways. Including for schematics in architectural firms, for artwork recreation at universities and creative agencies, and for crafting community murals and displays.
UV curable ink technology has allowed the development of ink formulations that stick to almost any material, including onto substrates like wood, plastic and metal, as well as onto rolled materials. Today, printers can image directly onto these materials and many others.
Wide format printers have also become more eco-friendly. UV curing and low-VOC inks have removed the toxic byproducts associated with earlier models which used solvent inks.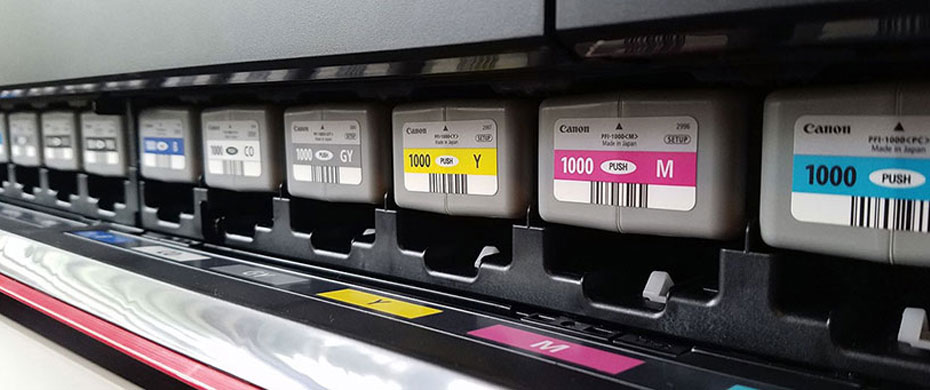 The future of large format printers
Wide format printers have come a long way in their relatively short history. And this process of continued refinement and innovation continues to this day. The future, therefore, is looking bright.
As costs come down and new features become available, wide format printing will continue to be used in new and exciting ways. Whether that's printing on new materials or the technology being used to print new and innovative displays.
Large format printers will also become faster and more powerful, allowing for even greater printing at even faster speeds. Sharpness, colour vibrancy, and resolution will all improve.
The big players will continue to be Canon, HP and Epson, all of which have invested heavily in research and development with the view to taking wide format printing to the next level.
Overall, we can't wait to see what the future will hold for large format printers and wide format printers. It's sure to change the way we print in Australia yet again.
"While improvements have been incremental, today's wide format printers are leaps and bounds ahead of early models."
Thinking large format printers? Think Total Image Supplies.
At Total Image Supplies, we are your Australian large printing and wide printing specialists. We have the range and the experience to meet your requirements and application.
Unsure which wide format printer or large format printer is right for you and your business? Speak to our expert staff today for professional advice and support.